creation that brings me to cameroon
2021, I have a special demand for a piece of art to honor the village chief. With only one old picture qualité, and th personnal informations, I wanted to represent the humanist side of the character, by choosing an attentive posture, listening to others.
Touching, through my art, what makes us human is the most important thing for me.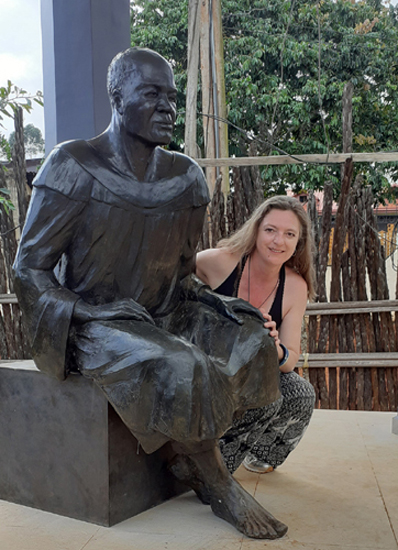 Spring selection Abel's drawing
Abel's drawings selection spring 2020 format video mp4



Publications
Marka magazine Russie/ Madame FIGARO magazine France/ Kitchen & Baths design USA/Arts&Déco Nord France/Visite Déco France/Nord Eclair / La Voix du Nord/Fémina.

Becoming sculptor
A childhood in France between nature and Art classes.A general experiment to find different forms of poetic writings, to escape, transform and create. At 12, the artist discover another type of creation, with new materials and colours for clothes fashion.Then learning for career in communication and working as an art-director and a web engineer.Travelling to Florence, Budapest and New-York and discovering the human wealth's and Art.And finding the clay back and all the material which can form and create.Experiencing different passions with other creators in metal, fire, stone…to create with love generous things…and find natural forms just for pleasure and generosity.

Easy and healthy
Easy and healthy ways to prepare fresh vegetables....discover my simple recipes in this book. A cooking adventure! website : http://www.freshlegumes.us